Written by Nancy Bulzoni, CWC Executive Director
I am a planner by nature.  However, there remain a few things where procrastination still rules.  For me, one of those areas is a comprehensive long term estate plan. This can include wills, living wills, powers of attorney (healthcare and maybe property) and trusts, etc.  I believe I am in good company on this one.  When I saw the Center was offering an education program titled "Estate Planning 101" I decided it was time to jump in to "know what I didn't know".
I found was it was well worth the hour I spent listening and taking notes from presenter Matt Margolis of Margolis Weldon. While his main message was it is very important to look at wills and trusts to avoid probate which is both costly and time consuming, there are other important factors.   As someone who thought I had most all of this covered I did learn there are still gaps in my personal long term planning.
Here is a recap of my key takeaways, and I also encourage you to click on the link at the end of the post to view the entire presentation.
A will is a great first step and will keep you covered if you are a couple until one spouse dies. When a spouse dies, as long as all property and investments are jointly held or each other is named beneficiary when its and individual account, you will avoid probate.
KEY TAKEAWAY:  Make sure all your property and accounts are up to date on the beneficiary designation and/or jointly held.
when there is only one surviving person or if beneficiaries and joint ownership are not in place, your assets are subject to probate.
KEY TAKEAWAY:  Trusts are NOT just for the wealthy!
A Revocable Living Trust is the most common trust instrument. Once in place, all the assets retitled to the trust are protected from not having to go through probate.
KEY TAKEAWAY: when you create a Revocable Living Trust you should ensure ALL assets are retitled to the trust.  Any asset which is not retitled to the trust is subject to probate.
Powers of Attorney are also important and include both health and property. You dictate when they take affect and who you name as POA.  Make sure the person you name is someone you trust.
KEY TAKEAWAY:  in addition to the legal document, it is encouraged that you have a conversation with the person you name as POA.  The legal document is a short paragraph and often does not explain your wishes fully, where a conversation can ensure a more complete understanding.
While there are costs involved in setting up wills, trusts, and Powers of Attorney.  The costs of probate will likely be much higher.  In addition, probate cases can take up to 12-18 months on average before assets are released.
I again encourage you to view this insightful program by clicking the video below.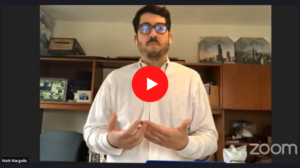 https://www.cancerwellness.org/wp-content/uploads/2021/03/estate.png
586
1044
Savina Chacheva
https://www.cancerwellness.org/wp-content/uploads/2020/12/logo-300x90.jpg
Savina Chacheva
2021-03-17 11:00:30
2021-03-17 11:43:07
Estate Planning 101