Longevity Kitchen: Okinawa, Japan
There are regions of the world where people live well into their 90's and even into the 100's: Okinawa, Japan; Sardinia, Italy; Loma Linda, California; Ikaria, Greece and Nicoya, Costa Rica. When studied, theses people share common habits like regular physical activity, purposeful living, low stress, food and wine in moderation, plant focused diet, active social lives and spiritual connection.
Oncology Dietitian, Lori Bumbaco, and Licensed Clinical Therapist, Deborah Kronenberger, explore each of these regions in a fun and engaging cooking demonstration.
Watch the below video to learn about Okinawa, Japan, and test out the delicious recipes.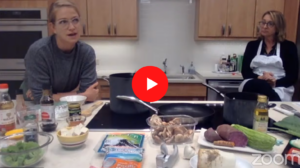 Goya Champuru 
This is perhaps the quintessential Okinawa recipe!  Goya, or bitter melon, can be found in most grocery stores or Asian markets.  Its greatest beneficial property is lowering our blood glucose levels.  Bitter melon is in the gourd family and contains Vitamins A and C, folate, and fiber.   As its name suggests, bitter melon tastes bitter!  Boiling in salt helps reduce the bitter flavor before adding to the champuru, or "mixed dish".
Cook time:  30 minutes                                                        Makes 4 servings
Ingredients:
1 bitter melon
1 Tbsp. sesame oil
1 small onion, sliced
2 carrots, sliced
2 cloves garlic, minced
1 tsp. minced ginger
1 bell pepper, sliced
8 ounces mushrooms, sliced
½ of 15 oz. package extra firm tofu, drained, pressed, and cubed
3 Tbsp. reduced sodium soy sauce or tamari
1 Tbsp. honey
1 Tbsp. rice wine vinegar
1 tsp. sriracha sauce or more
3 Tbsp. water
1 Tbsp. corn starch
1 Tbsp. toasted sesame seeds
Directions:
Slice bitter melon in half horizontally, scoop out seeds, and slice.
Bring a small pot of lightly salted water to a boil, placed sliced bitter melon in water, cover, and boil for 1 minute. Drain and place in ice bath until cool.
Heat sesame oil in a large skillet or wok and add onions, carrots, garlic, ginger, and bell pepper. Sauté for 5-6 minutes.
Add mushrooms and sauté for 2 minutes.
Add cooked bitter melon and tofu, and sauté for additional 2 minutes, until heated through and vegetables are crisp tender.
While vegetables are cooking, prepare the sauce. Combine soy sauce, honey, rice wine vinegar, sriracha, water, and corn starch in a small bowl.  Mix until smooth.  Pour into skillet, and stir fry until sauce is thickened, about 1-2 minutes.
Sprinkle with sesame seeds.
Serve over whole grains like quinoa or farro.
Okinawan Cream of Mushroom Soup
Mushrooms are a prized ingredient in Okinawa.  They add umami flavor to recipes.  Dried mushrooms are given as gifts on the island.  They are high in nutrients, including B vitamins, selenium, potassium, and ergothioneine.  Some varieties also contain beta glucans or Vitamin D.  Each of these nutrients and compounds support the function of our immune system.
Cook time:  20 minutes                                                                        Makes 2 servings
Ingredients:
1 small onion or ¾ cup of leeks, chopped
1 Tbsp. vegetable oil
1 tsp. salt
1½ cup shiitake mushrooms (or use ½ cup of each of shiitake, enoki, and Shemeji mushrooms)
1 tsp. ginger, grated
2 c. plain soy milk
1 bay leaf
1 Tbsp. miso paste
Directions:

In a large pot, stir fry onion in vegetable oil with dash of salt until soft, about 5-6 minutes.
Add mushrooms and continue sautéing until soft.
Add ginger, soy milk, and bay leaf and bring to a simmer.
Simmer for 3 minutes.
Turn off heat, remove bay leaf, and stir in miso at the end.
https://www.cancerwellness.org/wp-content/uploads/2020/10/Copy-of-Untitled-5-e1603498470257.png
665
1566
Savina Chacheva
https://www.cancerwellness.org/wp-content/uploads/2020/12/logo-300x90.jpg
Savina Chacheva
2020-10-23 18:55:51
2020-10-24 08:02:55
Longevity Kitchen: Okinawa, Japan