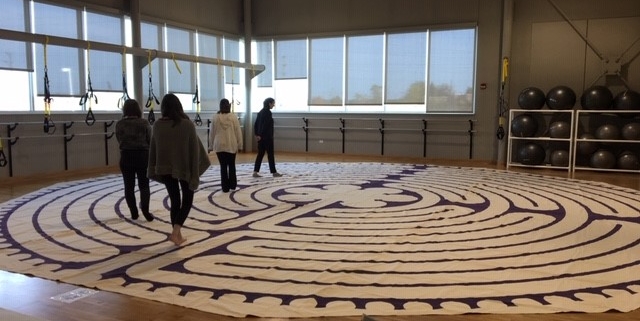 How the Labyrinth Plays a Role in the Cancer Wellness Journey
Written By: Vicki Marchio
Sharing the labyrinth with others has been one of the most meaningful and joyful experiences I have had in recent years.
I have been practicing yoga for years while raising kids. This has brought serenity and balance to my daily life.  Losing my mother to cancer gave me a passion for helping other people impacted with trauma, pain, range of motion, and physical and emotional limitations.
Yoga can bring them inner peace, calm, increased energy, flexibility, improved coordination and balance.  Yoga uses physical postures, breath work and meditation to bring mind and body back into a balanced state.
After participating in labyrinth facilitator training, I realized that with the labyrinth I can teach life balance to those that can't practice yoga.  I can continue to help people with their pain and fragility, both physically and mentally. I can teach people how to bring themselves back into a balanced state while walking the sacred path. I have a new insight on how I can continue my mission of helping people find a peaceful space by using the labyrinth.
I have been walking a labyrinth since 2000 after my mother built one in our yard in Northern Michigan.  My mother studied with Lauren Artress in 1998. She also purchased a canvas Labyrinth that I am thrilled I am using to teach people about the journey.
Losing my mother, Mary (73), and childhood friend, Carolyn (38), to cancer cultivated my desire for enriching people's lives that are surviving cancer.  After losing my mother in 2010, I was so occupied with the everyday responsibilities of family and work, that I neglected my own grieving process.  When I finally had a moment to reflect and breathe, the reality of the absence of my mother's love, support, and advice settled in, and I recognized that I needed help in trying to process the monumental change in my life. At the time, I was unaware of the Cancer Wellness Center in Northbrook.  After experiencing my own grieving process without the countless services it offers, I now am able to fully appreciate its power.  Additionally, this experience transformed the way that I look at cancer survivors and bereaving persons.  Now when I meet a newly bereaved person who has dealt with a cancer loss, I explain to them what an amazing place Cancer Wellness is, and how the Center can help them cope with a tragedy.  I have made it my personal mission in life to find a place that empowers people, so they do not have to navigate the cancer journey alone.
My employment at Cancer Wellness Center since 2012 truly has made an impact on my life, demonstrating that the human spirit can be lifted with a warm smile and a kind heart.  I am the first person who greets everyone visiting the center, and witness daily the enormous impact our programs/services have on the participants.  I manage the center, which is free of charge; I facilitate the operations of services by appointments, classes for healthy living, and the volunteer staff.
I finished my yoga teacher training a few years ago. I teach yoga at the center 2 days a week, and facilitate retreats/workshops. In addition I am certified to teach yoga to cancer (Y4C) patients, and Restorative Yoga. Affecting people's lives and running the daily operations with passion and grace is what I do at the Cancer Wellness Center.
https://www.cancerwellness.org/wp-content/uploads/2018/11/labyrinth-picutre-1.jpg
480
640
CWC Staff
https://www.cancerwellness.org/wp-content/uploads/2020/12/logo-300x90.jpg
CWC Staff
2018-11-09 12:00:14
2019-06-24 10:54:43
How the Labyrinth Plays a Role in the Cancer Wellness Journey