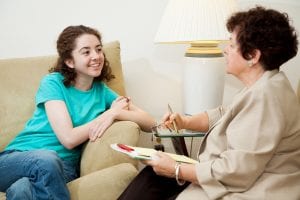 Written by Katie Hull, LCSW, Clinical Intake Associate
Our focus is often on the cancer patient, rightly so, however it is important we recognize cancer's impact on the family unit, specifically children and teens. While children and teens may process and experience their emotions differently from adults, it's important to identify these behaviors and emotions, as well as educate oneself on how to best manage and cope with them.
The support of one's family is essential during a cancer diagnosis. It's imperative that each member of the family understand how individuals are processing this news. There are some children who are like open books, who may share information on a parent's diagnosis to a stranger at the store, whereas other children prefer to keep this solely to themselves. Identifying how one's child and/or children is/are coping is a first step in navigating if further support is needed.
Here are some helpful first steps in identifying if additional support may be necessary:
Check in about how they feel and observe how they have been behaving
How are they coping? (outbursts, withdrawing, anxious, crying spells, irritability, taking on a parental/caregiver role)
Is there a noticeable change or cause for concern? (school issues, behavioral issues in the home, isolating from friends, somatic complaints, change in sleep and/or appetite)
How open have they been about how they are feeling? (whether this be through play, verbal communication, art/drawings, journal entries/letters, etc.)
Don't forget to observe how you have been feeling and behaving as a parent
It's important to remember that children often learn through their parents' behavior and may pick up on feelings of fear and uncertainty.
Consider how transparent you will be during treatment (side effects, fatigue, anxiety) regarding how you are feeling through your communication and non-verbal communication.
Utilize the support of extended family and friends to help in keeping up with the child/children's daily routine (helping to pick up from school, attending sporting events, going out for dinner, running errands)
Come Up with a Family Plan
Designate who will tell the child/children about the diagnosis (the individual diagnosed vs. a loved one)
Process what the experience of sharing felt like and how the child/children seemed to react to the news of the diagnosis and/or treatment of the parent.
During the school year consider notifying the school and deciding whether it would be beneficial in setting up additional support with the school social worker/psychologist.
Develop a new family routine regarding responsibilities and ways each family member can help and contribute around the house.
Set realistic expectations of what the course of the diagnosis (treatment, side effects, post treatment, etc.) may look like while also keeping in mind the age of the child/children to ensure what you are communicating is age appropriate.
Find additional tools to help in processing the experience of a diagnosis (books, camp programs, support groups)
Hold a family meeting to discuss if further support is needed.
Identify if family members are open to receiving additional support/resources.
Cancer Wellness Center Support Services for Children & Teens:
Individual Counseling Services (For ages 4+): Sessions are typically 45-50 minutes in duration. We are currently providing services virtually.
Parent Consultation: A one to two session consultation available for parents who have cancer or who have a child living with cancer. These sessions cover how a cancer diagnosis can impact the family and strategies for adjusting to new family routines and roles.
Family Programs: Family yoga, arts and crafts programs, speaker presentations from experts in the field. * Vary per calendar period
Please contact Katie Hull, Clinical Intake Associate, at khull@cancerwellness.org or (847)-562-4981 if interested in getting involved in our programs and support services.
Resources:
https://www.cancer.org/treatment/children-and-cancer/when-a-family-member-has-cancer.html
https://www.cancer.net/navigating-cancer-care/young-adults-and-teenagers/cancer-and-relationships/how-cancer-can-affect-your-family
Additional Resources for Children & Teens:
Insight Behavioral Health Centers
333 N Michigan Ave
Suite 1900
Chicago, Illinois 60601
Call Dr. Susan McClanahan
(312) 273-6176
*Intensive Outpatient Program
Contact for a Free Assessment: For more information please contact at 312-487-2336, or confidentially chat live with a member of our Clinical Assessment team on our website at, www.insightbhc.com
Alexian Brothers Center For Mental Health
3436 N Kennicott
Arlington Heights, Illinois 60004
Call Mrs. Maxine Goldstein
(224) 374-1914
*Intensive Outpatient Program
https://www.psychologytoday.com/us/treatment-rehab/intensive-outpatient-program/il/northbrook/70455?sid=5e583d9ebd0ba&ref=8&tr=ResultsName
JCFS Chicago
255 Revere Drive, Suite 200
Elaine Kersten Childrens Ctr
Northbrook, Illinois 60062
Call David Lipschutz
(855) 547-0355
https://www.psychologytoday.com/us/treatment-rehab/intensive-outpatient-program/il/northbrook/148891?sid=5e583d9ebd0ba&ref=1&tr=ResultsProfileBtn
Youth Services of Glenview/Northbrook
Address: 3080 W Lake Ave, Glenview, IL 60026
Hours: 8:30AM–5:30PM (counseling sessions may run later into the evening)
Phone: (847) 724-2620
Youth Services is a nonprofit organization which provides individualized, activities-based mental health care for children and adolescents in Chicago's northern suburbs. With a focus on the social-emotional well-being of the community's youth, they offer a variety of programs which address the individual needs of each child. Services include individual therapy, group therapy, crisis intervention, socialization groups, after-school groups, pride, sexuality education, academic support, juvenile diversion, financial assistance, and referrals.
Wellington Counseling Group
Lincolnwood, downtown, Northbrook
BCBS and Medicare
Address: 1011 W Wellington Ave Ste 210, Chicago, IL 60657
Phone: (312) 384-1940
https://www.wellingtoncounselinggroup.com/
Skylight Counseling Center:
info@skylightcounselingcenter.com
(847) 529-8300
5225 Old Orchard Rd., Suite 37
Skokie, IL 60077
122 S. Michigan Ave., Suite 1433
Chicago, IL 60603
1033 University Pl., Suite 330
Evanston, IL 60201
137 N. Oak Park Ave., Suite 206
Oak Park, IL 60301
Skylight Counseling Center provides professional counseling services to individuals, families, couples and groups.
https://skylightcounselingcenter.com/
The Family Institute at Northwestern University:
666 Dundee Road, Suite 1501
Northbrook, IL 60062
847-733-4300
(For general questions, dial extension 0)
City Haven Counseling:
Address: 2153 W Belmont Ave, Chicago, IL 60618
Phone: (312) 529-0866
Providing individual, couples and family counseling.
https://www.cityhavencounseling.com/
Illness Navigation Resources: A consulting service that helps patients grappling with acute and chronic medical issues access specialized resources and support.
https://illnessnavigation.com/
Phone: (847) 965-7677
SKOKIE LOCATION (MAIN)
5225 Old Orchard Road
Suite 14
Skokie, Illinois 60077
CHICAGO LOCATION
405 N Wabash Avenue
Suite 2608
Chicago, Illinois 60611
https://www.cancerwellness.org/wp-content/uploads/2020/09/children_affected_by_cancer-300x200-1.jpg
200
300
Savina Chacheva
https://www.cancerwellness.org/wp-content/uploads/2020/12/logo-300x90.jpg
Savina Chacheva
2020-09-17 21:13:33
2020-10-23 18:54:48
Cancer in the Family